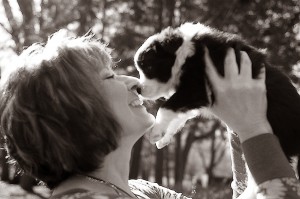 My name is Karen Fitzpatrick and I would like to thank you for visiting Meadowlake Border Terriers.  We are located just south of Chicago in Kankakee, IL. Our Borders live with us in harmony with our 3 Border Collies, 3 Standard Wire Dachshunds, Papillon and Sheltie.  I have been showing and breeding Border Terriers for almost 19 years.  Our goals at Meadowlake are to produce terriers that consistently demonstrate superior breed type, excellent conformation with emphasis on movement and temperament, and that will succeed equally well in the breed ring, agility, field work or simply just as a healthy loving companion.  All of our breedings are meticulously planned with concern for maintaining the integrity of our unique breed as our first priority.  Puppies whelped at Meadowlake are raised in our home, with great attention given to proper socialization and training.  Given this type of solid foundation, we believe that our terriers will excel in many activities, but most importantly, will be loving, loyal companions to those who are fortunate enough to be owned by them.
All of our terriers are tremendous achievers in the conformation ring and must have the disposition that is demanded by us before they are bred.   After we make the careful decision to breed, we then determine the match most desirable to produce the terrier we feel fits our high standard of achievement.
We have to our credit numerous conformation championships and have won consistently at the BTCA National Specialty, taking Best In Sweepstakes 3 times to retire the Todfield Trophy.  We have many other prestigious wins including Best of Breed at Westminster Kennel Club 5 times and 2 Group 3's! Best of Breed and Best Bred By Exhibitor at the Eukanuba Championship 6 times winning the Bred By Group twice!  And twice winning a Group 2 at such an esteem level of competition.
We were honored in 2014 by being awarded SPORT DOG BREEDER OF THE YEAR by the American Kennel Club for our contribution the sport of Earth Dog! Our Borders are some of the most versatile Border Terriers in the United States and abroad.  We hope you will enjoy or website and please plan on visiting our Bred By Meadowlake page!
email: janerusl@aol.com phone: (815) 351-8118